The following event occurred on 9th July, yesterday, in Moraira.  I made a comment on my FaceBook wall about it but as it was too long to explain, so I'm sharing it here.   It's a beautiful story and I hope you enjoy it and share it with others.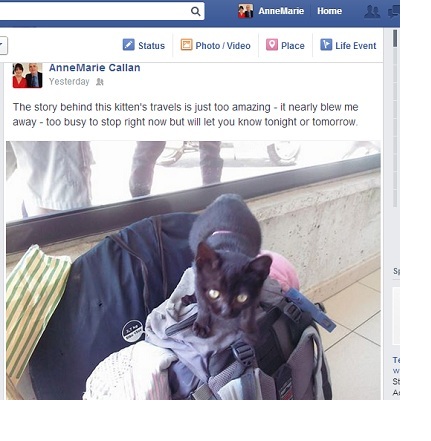 A lot of stories start off with … "A strange thing happened … "  well, in the following, that is what I felt by the time I returned home yesterday after the amazing meeting.
It was a very busy day for me as I was working towards the final touches to one of my main projects.  Suddenly I realised we needed some essential groceries, so I had to go to the stores as I could not put it off for another day!
As I drove towards the store, I noticed two men walked in just in front of me.  They had with them two beautiful well cared for dogs and rucksacks on their backs.  I wondered if they were going to beg for money, which is quite normal in the supermarkets where I live.  But they looked too 'prosperous' for that.
Anyway, as I left the supermarket with my bag of groceries, the younger of the two men was sitting on the ground directly facing the door.  My immediate thought was that he was a beggar.  Our eyes connected for a second.  That split second was enough time for me to know that I could not just walk on by.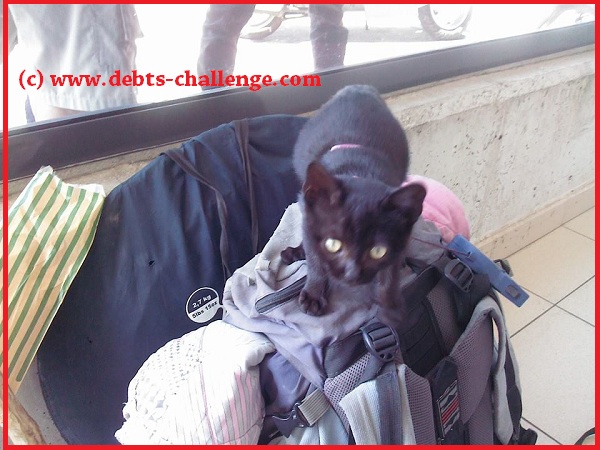 Then I saw the amazing cute little black kitten with a lead around his neck, on top of his bag, so that became the communication opener for us.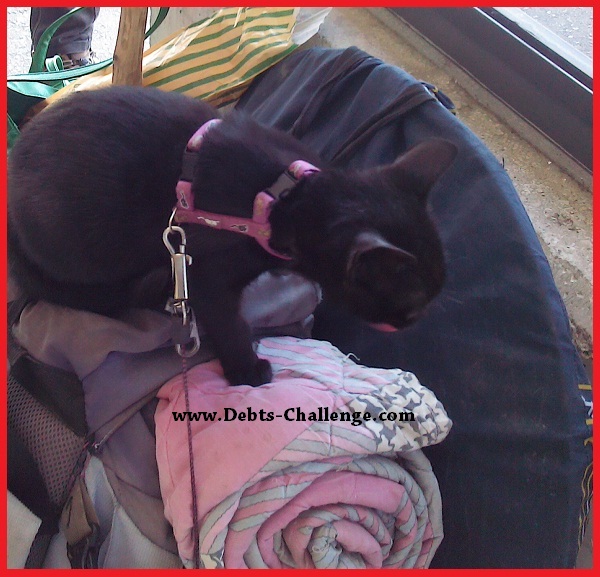 After spending five minutes with this young man, I came away wishing that there were more like him in the world.
No he was not begging.  His name is Struppi and he was on a walking expedition with his very best friend, his father, Tom.
He put his hand to his heart as he mentioned how much he loved spending time with his father.  A 19 year old boy proud to share his emotions about the love he had for his father was something I will always cherish.
When I had the opportunity to speak to his father, he told me that the reason he had such a good relationship with his son was because he had never lied to him.  His son could trust him no matter what!
Struppi, the young man's nickname and his father, Tom, were on a mission.
Their mission was to walk several thousand miles from Cologne in Germany to the Wailing Wall in Jerusalem.  When their hands eventually touch the Wailing Wall, then and only then, will two major companies in Germany, who sponsored them to the tune of 1M  Euros each, pay.
The kitten, they found on route.  There are a lot of stray cats in the mountains in Spain so he was one of the lucky kittens!  They also had two very beautiful dogs on tow.  Sadly I didn't take photos of the dogs.
So what did I learn from speaking to this young man?
The most important lesson I learned and often have to be watchful of this particular lesson is "Never judge a book by its cover".
As I drove home, back to the project I was working on, I wondered how, as it is going to take them weeks, they managed to take so much free time away from their jobs etc.
Stuppi had just finished his studies and at 19, it would be an amazing experience for him but how did his father manage.  His father was at an age where such an adventure would be something he would never regret and to do it with his son … what wonderful memories he would have to cherish.
Is it possible for people to be able to afford such a long break from their conventional living?
As coincidence / synchronicity would have it, and as it always seems to pop up in the strangest places. Yes, I had taken time out to shop, away from the project I was working on,   Affiliate Marketing would allow anyone to take months out of their year to travel.
To add that to my article on just going shopping yesterday, was not part of my plan and yet, it is so pertinent.  (I hope you take the time to check it out.)
I hope you enjoyed this article and please share with your friends if you did. 🙂