At last! I am so excited to tell you about a book which is going to change your way of thinking about money and being in debt!   Madness, I know but let me explain.
I met the author, Bill Stacy, online a few months ago and he told me he was working on something which was related to my debts challenge website. Yesterday he sent me a copy to get my thoughts (even though he has tremendous reviews already).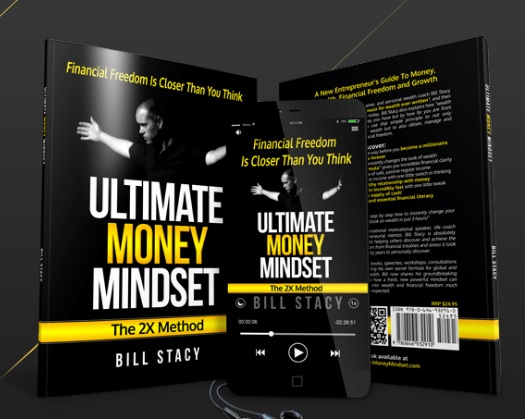 I had written a book on debt management, which is in my archives and will re-released later this year, so I was a bit wary when I started reading it, as I felt I had covered some of the content in my own book. That wariness soon wore off when I delved deeper into the content of the book and I was 'blown away'.
OMG!  Sorry … but why had I not thought of his 2X money mindset methods myself?
Bill's thinking is completely outside of the box but (kicking myself here) so very simple!  Anyone can do it.
There was one part of the book I thought might put you, one of my readers, off and that is when they are dealing with debt, especially large credit card debt, was the fact that Bill had a hefty lump sum due to the sale of his business.
Would you, resonate, when you are probably wondering how you're going to get through another month, or week! Again that concern soon disappeared as I realized he had everyone's financial situation covered – whether in debt or, in the other extreme, in financial abundance.
However, I will mention that before he sold his business he was a broke working stiff (as he put it), usually in choking debt and hating life for 20 working years doing over 65 jobs. It's this experience which gave him the perspective to be able to redefine wealth and create the 2X formula.
Saving money is something you, in debt, have probably given up on.  Yet the way Bill's money mindset works, that is going to be one of the easiest things you will be able to do and still shift your debts. It will really open your eyes on the very best ways of saving money.
I'm so glad that Bill asked me to read it and give an honest review. Hand on heart, I wish I had read it years ago. I would be a very wealthy woman today plus I would have helped so many people too!
The 2 X Money Mindset Method!   It's clearly explained within the book so you will need to read it to know exactly how it works.
Can this book be life changing to someone who needs to clear their debts?
The answer is an resounding Yes.
If you are in the UK – click this link to read some of the reviews.
Or if you are in the USA – click here
You may also go to the website where you can get the pdf and the audio.
Trust me. I believe that it would be money well spent.  The knowledge within can only improve your life.
Listen to what one person had to say …
If you do decide to buy it, do let me know and send me your receipt, because I would like to gift you with a free copy of my own book when it's out.  🙂
saving money – in debt – credit card debt
Get my Free report on 'Just Be Debt Free' >>>